The Curious Case of American Men's Tennis - By David Bloch
By AISMS Admin | 10/15/15 |
With 2,680 Olympic medals, America has historically been preeminent in a vast array of sports. Men's tennis is no exception. Our players have won 51 Grand Slam Major tournaments and 32 Davis Cup titles. Both are world records. America is also home to the most renowned tennis academies, largest sponsors, and highest ranked junior players. This all begs the multi-billion dollar question: Why aren't we winning?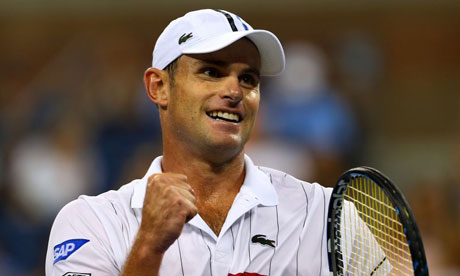 America is undoubtedly in a men's tennis slump. We haven't produced a world No. 1 or Grand Slam champion since 2003 when Andy Roddick accomplished both feats. Moreover, only eight men from the United States are currently ranked inside the top hundred players. Some attribute this phenomenon to globalization and the sport's growing popularity in Europe, Latin America, and most recently, Asia. Others blame internal factors such as the predominance of other sports in our society and the overall ineffectiveness of the United States Tennis Association (USTA). Though it appears that all of these elements play a substantial role in the declining state of American men's tennis.
The globalization of tennis seems to be the most salient of these theories. From 1877 until the beginning of the "open era" in 1968, Americans won 92 out of the 290 Major tournaments.[i] However, in the succeeding decades, icons such as Bjorn Borg, Guillermo Vilas, Mats Wilander, Stefan Edberg, and Ivan Lendl ignited the popularity of tennis in their respective countries, and other nations soon followed. Americans responded with a brief resurgence from 1992-2001. Pete Sampras, Andre Agassi, and Jim Courier claimed 22 of 40 Grand Slam titles, but this period ultimately marked the end of the country's dominance.
Though not exclusive to America, we especially face the challenge of other sports appropriating top athletes by enticing them with more money and fame, guaranteed salaries, shorter seasons, and few expenses. Furthermore, the physical nature of "mainstream" sports—football, basketball, baseball, and ice hockey—greatly differs from that of tennis, making it arduous to compete in tennis, along with any of these mainstream American sports. Soccer, which is ubiquitous outside the United States, can actually help tennis players with footwork and endurance. Consequently, countries in which athletes can compete in both tennis and soccer may have an edge in producing competitive tennis players. In fact, 9-time French Open champion Rafael Nadal once considered a professional soccer career.
Under the gaze of the USTA, tennis training in this country has centered on power rather than strategy, a problem ingrained in the prevalence of quick-playing hard courts and dearth of slower clay courts. But while the USTA admits to this mistake and has pledged to resolve it, the association still faces persistent criticisms from juniors, professionals, retired professionals, commentators, internal personnel, and various other groups for a myriad of issues—most of which stem from its "tennis factory" training method. Introduced by Patrick McEnroe, this concept describes a full-immersion USTA Junior Development Program that requires junior players to live at training facilities and practice for many hours each day. Yet even with a $17 million budget,[ii] it has been a failure because of—what was described in a lawsuit as—"callous" actions. In one incident, Julia O'Loughlin, a former USTA academy member, alleged that the facility's coaches forced her to lose weight through training "to the point of exhaustion,"[iii] even though they understood she had an eating disorder. In a more publicized case, the USTA refused to fund travel expenses for Taylor Townsend, a world No. 1 junior girl at the time, citing that she needed to work on her fitness. The decision ultimately cost her the opportunity to play in the U.S. Open and sparked immense disapproval from the international tennis community. 18-time Grand Slam champion Martina Navratilova stated that the USTA's action "speaks of horrible ignorance."[iv] Nikko Madregallejo, who was suspended from a USTA academy for leaving his dorm without permission, detailed how demanding the overall "tennis factory" experience is, saying, "Wake up, go to school, play tennis, fitness, tennis—just over and over again every day, you just get exhausted."[v]
So what can be done? In an attempt to make the sport more accessible to youth, the USTA imposed new, less demanding rules for Under 10 tennis as part of its "QuickStart" program, though the initiative has largely been perceived negatively. The program exemplifies how little control America possesses over the sport's popularity, which is unfortunate considering its continuing global growth. Nevertheless, the USTA has made strides to reduce the travel associated with playing competitively on the junior tour, but more importantly, it has strongly promoted college tennis.
It may sound counterintuitive, but steering top junior players towards collegiate careers might make American men's tennis great again. At first glance, choosing college may look like a waste of four valuable years on the professional circuit, especially considering that players like Nadal have won Grand Slam tournaments as teenagers. Additionally, almost all of the current top hundred ranked men skipped college, and people often view the exceptions as unmotivated. However, the evolution of tennis provides insight as to why college might benefit aspiring professionals.
First, the technology and physicality of the sport have increased tremendously. Rackets and strings that generate more pace and spin have made it easier to overpower younger players with less developed bodies. Advances in kinesiology, medicine, and surgical procedures have extended the career span of players. In fact, the average age of the top ten ranked players this year is 29, compared to 24.6 a decade ago and 23.2 two decades ago.[vi] Thus, electing to attend college allows players to mature before taking on a professional career and doesn't translate to "wasting" precious years as previously believed. There are also financial reasons for going to college. The average annual cost of competing on the ATP World Tour is $143,000.[vii] Scholarships are worth around $60,000 a year and an overwhelming majority of players have losing records in their early pro years.
Some players—like American phenom Jack Sock—are capable of handling these kinds of pressures before college, but too many others prematurely join the tour. For instance, in 2005, Donald Young became the youngest-ever junior world No. 1, arousing hope for American tennis. However, his transition into the professional world went poorly as he lacked the mental discipline and physical development to live up to the hype. Young eventually made his mark by publicly cursing the USTA and losing 17 consecutive matches in 2012, the same year John Isner became the top ranked American. In contrast, Isner graduated from the University of Georgia and stated that, "Without college I wouldn't be here today, I can say that with 100 percent certainty. I wasn't nearly good enough to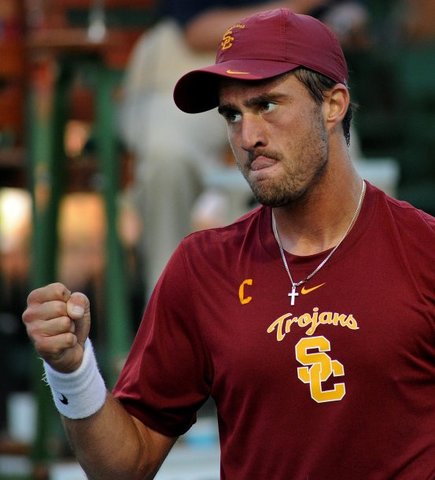 go pro after high school."
[viii]
Similarly, American Steve Johnson, arguably the greatest college tennis player of all time, credits his success to his experience playing for the University of Southern California (USC). Johnson, who
anticipates finishing his degree in the near future, still frequently trains with the USC team and it appears to be working. At the 2015 Citi Open in Washington D.C., he defeated three of the most touted youngsters—Bernard Tomic, Grigor Dimitrov, and Jack Sock—none of whom went to college, en route to the semi-finals where he lost to Isner after holding two match points in a third set tie-breaker. In an interview at this tournament in August, Johnson admitted it was stressful being a student athlete, though he wouldn't have done anything differently: "Peter [USC's assistant coach and Johnson's current coach] and those guys are still like family so I'm always going to come back."
The new wave of America's top ranked junior players, including Taylor Fritz, Michael Mmoh, William Blumberg, Tommy Paul, and Francis Tiafoe, will soon choose between attending college and pursuing a professional career. But with no dominant countryman in the world rankings, will they hesitate to join the pro ranks? Will the recent success of college players like world No. 12 Kevin Anderson (University of Illinois) influence their decisions? So far, Paul, the reigning Boys French Open champion, has selected to follow Isner's path and become a Georgia Bulldog, but the rest of the field is still undecided.